It started with one social media post.
On June 1, the Laguna College of Art and Design (known as LCAD) released a solidarity statement with the Black Lives Matter movement on its social media. The letter, signed by the school's president Jonathan Burke, looked similar to other posts by universities and companies pledging to stand against racial injustice.
But the hashtag #AllLivesMatter was the sole text on display at the top.
Students quickly noticed that their private arts school had used the hashtag associated with dismissing Black Lives Matter. They started flooding the comment section with their own experiences at LCAD.
At first, students said someone on the social media team fueled the fire by copy and pasting the same apology to every angry commenter, including the explanation: "When the person who makes our posts entered the #BlackLivesMatter hashtag, inexplicably, the other hashtag autopopulated."
Later, Burke hopped on to apologize in the Instagram comments, which quickly got buried by other replies.
"I want to thank everyone for speaking out about the various ways this post was mishandled, poorly composed and inappropriately edited by our Social Media Manager," read part of Burke's apology. "I am sorry for the hurt this has caused. What happened does not represent LCAD's values or point of view."
One month later, the dispute has triggered complaints from the student body about a hostile environment created by a mostly white school staff who they say are often insensitive, insulting or emotionally harmful to students of color and those who identify as LGBTQ.
Part of LCAD's mission on its website states, the school "prepares individuals for careers as creative artists and designers in a culturally and ethnically diverse world." It's located in a city that was historically considered Orange County's only liberal municipality.
"If the school advocates for diversity, everyone who works there should be well aware of the meaning of that hashtag," said fourth-year student Abigail Albano-Payton, who is Black and Filipina. "There's just no excuse."
Albano-Payton said that the post was just "the tip of the iceberg. There are so many issues, a lot of them which have been lingering around for too long" — an opinion echoed by at least 17 students, alumni, employees and former staff that TimesOC spoke to.
LCAD was founded in 1961 and was known then as the Laguna Beach School of Art. The school was previously located on the Festival of Arts grounds before the school purchased and acquired the original 3.4 acres of land in Laguna Canyon, where it is now.
The school offers 11 undergraduate majors, three graduate degrees, nine minors and a post-Baccalaureate program and spans seven sites located throughout both Laguna Canyon and nearby Laguna Beach.
The city of Laguna Beach is 91% white, according to the 2010 U.S. Census. While there is some diversity among the more than 700 full-time students at the college — which, according to the website, breaks down to 48% white, 21% Latino, 16% Asian, 2% Black, with remaining students classified as Native American, Pacific Islander, multiracial, "nonresident alien" or unknown for fall 2019 — the senior staff, professors and board of trustees are mostly white.
TimesOC asked the school for a racial breakdown of faculty and staff, but officials declined.
Out of over 100 professors, Larissa Marantz said she is one of a handful of Black faculty members at the school. She has been a part-time, adjunct professor at LCAD for 12 years. She is also the founder of the OC Art Studio in Orange, where she teaches youth.
She believes the use of the hashtag was an innocent mistake by Communications Manager Michael Stice.
Marantz said Stice, who first started teaching at LCAD 20 years ago, was fired "because they wanted to make it look like they were doing the right thing. They just threw him under the bus. He admitted that it was an error, but people were calling for his head."
She said Stice, who is white, initiated the idea of declaring solidarity with the Black Lives Matter movement in the first place, as protests in the wake of George Floyd's death popped up in cities all across Orange County.
But then he made the "grievous error," she said, and "all hell broke loose."
Stice did not respond to requests for comment.
Marantz said the real reason for the anger was because people felt like the #AllLivesMatter hashtag, though considered disparaging, aligned with their experiences at the school.
"We are responding to our community's comments, requests and actions as a team, and our desire to make improvements is threaded throughout the various passionate and dedicated members of the school's leadership team, the Equity and Inclusion Council, our support staff and our faculty," Marc Lyncheski, the school's director of marketing and communications, said.
School officials, including Burke, refused to comment further.
The Petition
Regardless of the hashtag's genesis, it united like-minded students to publicly confront their institution.
On June 9, students including Albano-Payton started an online petition titled, "Demand for LCAD Board to take online course on Race and Racism."
The goal of the petition was to collect 1,000 signatures. Organizers reached almost 1,500.
The petition describes "inequality at the hands of multiple staff/faculty/board members for their race, gender identity, sexuality [and] culture" it alleges came to light after the #AllLivesMatter post, as well as "LCAD's normalized behavior of silencing, mistreating and dehumanizing students when they use their voices to bring forth issues and problems."
The petition focuses on the need for diversity education for the board of trustees to better understand the younger generation of students who are increasingly diverse in terms of race, gender and sexual orientation in tandem with other campuses across the country.
As an example, Albano-Payton said she wanted to write a paper about the white male painter Paul Gauguin (1848-1903) including the critique that he exploited Tahitian women in his paintings. She said her idea was dismissed, and she said being told that "a white man taking advantage of women of color for profit is not 'exploitative but appreciative' is to justify the exploitation and marginalization of minority groups."
Julia Friedman, another adjunct faculty at the school who gave the assignment to Albano-Payton, said she was "struck by the student's hostility."
Friedman said the assignment was for Albano-Payton to show her understanding of figurative painting and not to speculate on attitudes.
"What I said was that Gauguin was sincere in his appreciation of the islands and their culture, and his use of indigenous models was not a simple instance of 'exploitation' in the way the student was suggesting," Friedman said.
Alex Ferreiras, a fellow LCAD student who, along with Albano-Payton, is forming what is likely the college's first Black Student Union. Ferrieras is the president of the club.
He said that once, after he gave a presentation, his white professor called him "articulate, like he was surprised" — not understanding that "articulate" is considered a disparaging word for a white person to say to a Black person, especially because there were no other Black people in the class.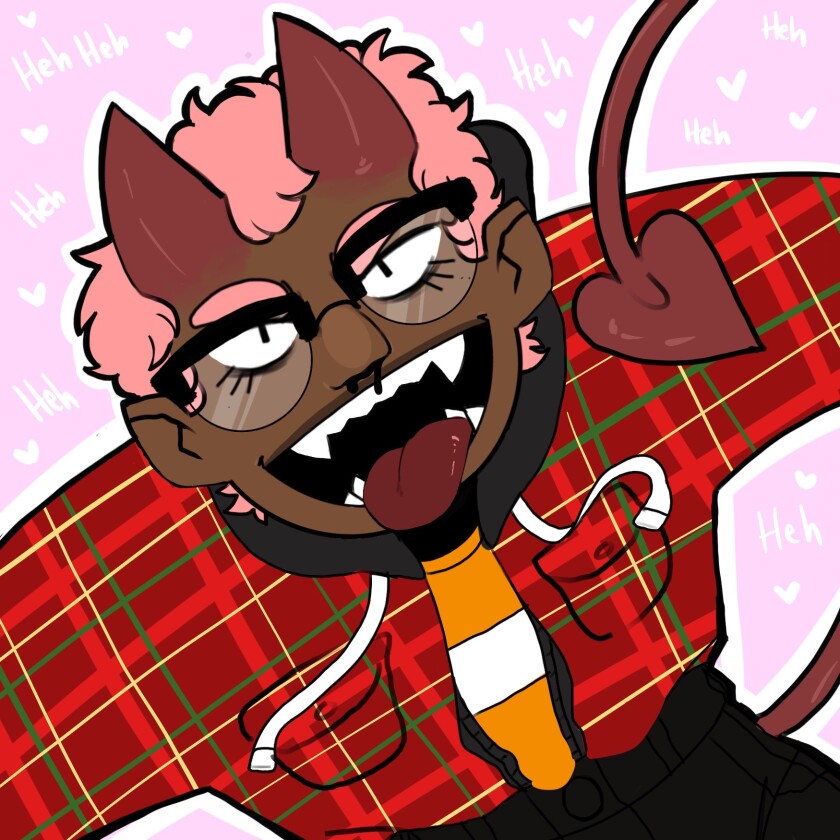 Other students described incidents of transphobia.
Phoenix Baldwin, a former LCAD student who left at the end of 2019, described an advisory meeting for the animation department. Names of students were on display and read out loud, to be matched with names of teachers for the upcoming semester.
However, despite the fact that the school regularly uses trans students' preferred names, Dan Boulos, the animation chair, used several trans students' deadnames, the name a person used before transitioning, including Baldwin's, in front of over 100 people.
At first, Baldwin, who is a trans man, attributed this to carelessness, but now he thinks it's a security issue that's often overlooked: "If a transgender student is fully transitioned but being called by their deadname, then they're suddenly outed when they don't want to be."
Two sources who spoke anonymously cited a professor who saw the discomfort of several trans students and their classmates — and filed a complaint in hopes of preventing the error from happening again.
But those sources confirm Boulos publicly deadnamed trans students two more times, as recently as April, and the same professor, who has since been let go, brought the issue to human resources.
Boulos did not respond to requests for comment.
Recent public protests within institutions are not unique to LCAD. Art schools, including Otis College of Art and Design and California Institute of the Arts, received similar comments from students under their Instagram posts in solidarity with Black Lives Matter and have made announcements to address those issues.
Last week, LCAD students started the Instagram account @blackplusatlcad "to air out their grievances about a school that promised an environment of 'Culture and Care.'" It was inspired by other accounts like @black_at_usc.
The design uses the school colors and mimics the apologies that the school has made on its social media. But instead, it includes anonymous comments, submitted through a Google document, like "I had a teacher tell our class to 'Stop being political,' because we had mentioned white privilege in class and how POC are treated."
Behind the Scenes
As people started sharing stories, senior staff tried to control the public narrative.
Marantz said she was part of a group of staff and faculty of color who helped draft an official apology letter from the school. But she said it was edited and watered down by the board of trustees.
In a meeting with staff, administration and faculty, Marantz talked about her experiences as a Black woman in America and in the school, in addition to suggesting some changes, like creating a scholarship to help diversify its student body.
On June 19, the school put a new post on its social media, explaining the steps they were taking to improve, including creating an internal equity and inclusion council, hiring a third-party restorative justice professional, hosting a student forum, developing a sensitivity-training program and working to diversify their board.
However, Ferreiras and Albano-Payton said that the forum was rushed, organized within a week without contacting their newly formed equity and inclusion council. It was also conducted by the restorative justice team, who students said seemed to think the outrage was purely over a botched social media post.
To them, the school's response seemed little more than a last-ditch effort to save its reputation.
When Marantz spoke in front of fellow faculty, staff and administrators, Cristy Maltese, a new adjunct faculty member, said she felt irritated. She admitted she hadn't been following the outcry on social media.
She said that Marantz's characterizing the school as racist did not match her own experiences there since she started in January 2020.
She sent Marantz and senior LCAD staff an email about how, as a cisgender Christian conservative, she felt she often didn't have a voice, and she asked for it to be forwarded to everyone at that meeting. She also called diversity training "a waste of time and money and an insult to reasonable, intelligent grownups," and said scholarships should be awarded on merit, not racial quota.
Marantz, frustrated, took to her public Facebook, not naming Maltese, but speaking about how she spent an hour educating a majority non-Black faculty and staff about institutionalized racism, only to have "Karen the white fragility queen" email her about "her suffering."
Maltese demanded Marantz share her full email publicly, alongside a apology and "a promise to never use [white] racial slurs again."
"I'm sorry to any BIPOC LGBTQ student who has ever had the misfortune of having you as an instructor," she wrote in her lengthy "apology letter" on June 27 which was signed by about 60 students, alumni, staff and former staff. Now, over 120 people have signed it.
Ferreiras said it was their way of saying, "If you do something to [Larissa], we will revolt … she's such a fantastic teacher and she cares so much about the students."
He said that part of the reason he wants to speak publicly is that he believes the faculty that support them in bringing these stories of injustice at the school out into the open are putting their jobs on the line.
As of press time, Marantz said that she has not heard anything from school officials regarding the emails since she made them public.
Maltese, on the other hand, said she was recently let go. In the postscript to her public email, she made what she refers to as a lighthearted comment about dropping masking and social distancing in order to "swap some germs." Some students were fearful of taking her class, a requirement to graduate, in the fall.
"The only beef I have with the school, which is a fantastic school, is with the cowardice of the administration," Maltese said.

Accountability

The school's website links to a PDF briefly describing their "institutional complaint process." Complaints about students go to Laura Patrick, while complaints regarding faculty or institutional policy and procedures go to Helene Garrison, the school's provost.
But many, including those who attended LCAD in decades prior, also say they never received feedback about complaints brought to administration.
A week before Barack Obama was elected president in 2008, an LCAD animation student wore blackface and posed as Obama for an on-campus Halloween celebration.
Marie Bower, an alumnus who is Native American and white, recalled the student dyeing his reddish-brown hair and eyebrows black and covering his fair skin with brown makeup that was shades darker than Obama's skin tone. She and a group of classmates had warned him it was blackface a day prior to the party.
He won the costume contest. The blackface photos stayed up on the school's Facebook as recently as June 18, according to Bower who shared screenshots with TimesOC, and, at press time, remain posted on LCAD's alumni Facebook page.
Bower, who was also a student worker in the provost's office, said she told Garrison and her executive assistant.
"They were like, 'it's not blackface. He's dressed like Obama.' And that was the end of the conversation. I didn't know what else to do with that," said Bower.
In December 2019, Baldwin started a petition in the animation department, which asked for six instructors the students liked, who were having classes taken away from them, to be reinstated. He provided TimesOC with a copy of the text of the petition.
Before setting up a meeting with Burke, Baldwin said he asked 73 students to sign it, and 70 signed.
Baldwin recalled bringing the petition to Burke, who deflected to Garrison, who then scolded him for not following protocol. She insisted that he bring the petition directly to the chair, Boulos, despite the fact that Boulos, the one in charge of hiring, was the target of the petition, and it made Baldwin uncomfortable.
A couple weeks later, Baldwin said there was a second meeting, this time with Baldwin's mother in attendance. Baldwin said Garrison spent the meeting interrogating the students about which faculty members were behind the petition.
"We're just over there going, 'No, we're here to save teachers,' " he said. " 'You don't understand. We want to keep teachers, we want to reinstate teachers."
A few weeks later, Baldwin decided to withdraw from the school, which costs approximately $35,000 a year to attend, without housing or financial aid.
His mother sent Garrison an angry email that Baldwin shared with TimesOC.
"In the meeting, I felt that my child was interrogated, disrespected and dismissed," the email read. "After what has transpired over the last couple of weeks while my son has endeavored to be heard, I no longer wish to give LCAD our attention or our money … LCAD will continue to suffer if the situation remains status quo."
Baldwin said that there have been numerous student petitions over the years that went nowhere and a history of students' concerns being ignored by administration.
He questioned why Burke would tell students that, as the president, he can't do anything.
Burke recently announced his retirement after 40 years of teaching at the school, 10 as president, though he is not scheduled to step down until the end of the year. Burke said that he was stepping down because he felt it was time and to return to his art. There was no mention of any campus strife in his retirement note.
Despite their criticisms — and the push-back from classmates who do not relate to their experiences and wish for them to be less public — Ferreiras and Albano-Payton also speak passionately about fellow students, faculty and staff members who they believe will be instrumental in bringing necessary change to the school they love.
Marantz hopes that LCAD can become a school where students feel like their voices are heard.
"There needs to be a set of guidelines and a pipeline so that when a student comes to a faculty member and says I've been harassed, or when a student comes to an administrator and says this teacher is harassing me, that there are steps that can be taken," Marantz said. "Where accountability can happen and that these people who are causing damage and harm are held accountable."
"There needs to be checks and balances and there is clearly not."
Both Albano-Payton and Ferreiras say they are "hopeful but hesitant" about the future of the school.
A fourth-year student, Ferreiras, 25, is older than most of his classmates, and as a 6-foot-1 trans man, he understands that it's easier for him to speak out.
So he wants to stand up for the people who are younger and smaller than him, who are too scared.
"It's like, 'I'm going to leave this school, and we don't want to leave you in a space that's toxic and unsafe,'" he said.
window.fbAsyncInit = function() { FB.init({
appId : '119932621434123',
xfbml : true, version : 'v2.9' }); };
(function(d, s, id){ var js, fjs = d.getElementsByTagName(s)[0]; if (d.getElementById(id)) {return;} js = d.createElement(s); js.id = id; js.src = "https://connect.facebook.net/en_US/sdk.js"; fjs.parentNode.insertBefore(js, fjs); }(document, 'script', 'facebook-jssdk'));