Erasmus Huis, the Indonesian-Dutch cultural center, recently launched its latest online program, e-rasmus huis.
The activities and events that have come to give Erasmus Huis its glowing reputation have been postponed due to the ongoing COVID-19 pandemic. As a result of this, they have chosen to shift to a digital platform.
The e-rasmus huis program will offer events related to the arts and culture, such as music concerts, film screenings and performance art. Acting as a medium for creatives to express themselves, Erasmus Huis hopes to be further engaged with its audience.
"In these confusing times, we see creatives – musicians, dancers, performers, bands, designers – taking the initiative and finding creative solutions to relate to this new COVID-19 situation. Instead of 'going live' they now reach out to their audience and fans online to express themselves. For 50 years Erasmus Huis has been giving space to these creatives. Dutch artists meet and work together with their colleagues from Indonesia. We wanted to give them a platform in these strange times and created e-rasmus huis," Erasmus Huis director Yolande Melsert said.
One of the events that will take place is the Dutch Movie 2020 Family Film Festival, wherein a Dutch film will be screened every month throughout July to December. Screened with Indonesian subtitles, these films will be accessible and able to be enjoyed by the whole family.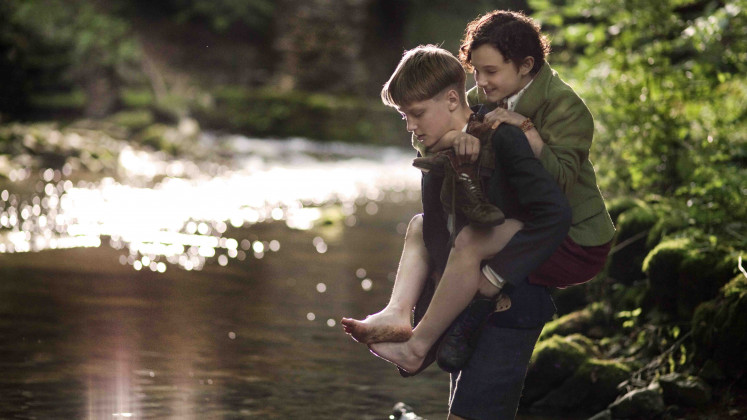 Family-friendly fun: Films such as 'The Secret of War' will allow audience members of all ages to appreciate Dutch arts and culture. (Erasmus Huis/-)
In partnership with EYE, the Dutch National Film Institute, six films have been selected: Secrets of War, Alfie the Werewolf, My Giraffe, Dummie the Mummy, T.I.M. and Wipala.
On the scheduled days of screening, EYE will make 400 URLs available, which will be distributed to those who register via the various Erasmus Huis social media channels. Active from 10:00 a.m. to 6:00 p.m. on the screening day, the links will allow the audience to screen the films at their own time.
Monthly online music and art performances will also be hosted on e-rasmus huis. With music genres ranging from psychedelic rock, electronic music, pop and singer-songwriting, to artistic expressions such as mime, there will unquestionably be something entertaining in the program for everyone.
A majority of the acts scheduled are alumni of Erasmus Huis, such as DeWolff, Ciao Lucifer and Bottlesmoker, and Emil Landman, all of whom performed in 2018-2019. However, several new acts, namely Annabel Laura and Jakob Ahlbom will be performing as well.
These performances will be available to stream on Erasmus Huis' YouTube channel.
A recent online staging saw DeWolff performing live from Electrosaurus Southern Sound Studio in Utrecht. The Dutch psychedelic trio, consisting of brothers Pablo (guitar/vocals) and Luka van de Poel (drums), as well as Robin Piso (Hammond organist), was conceived in 2007.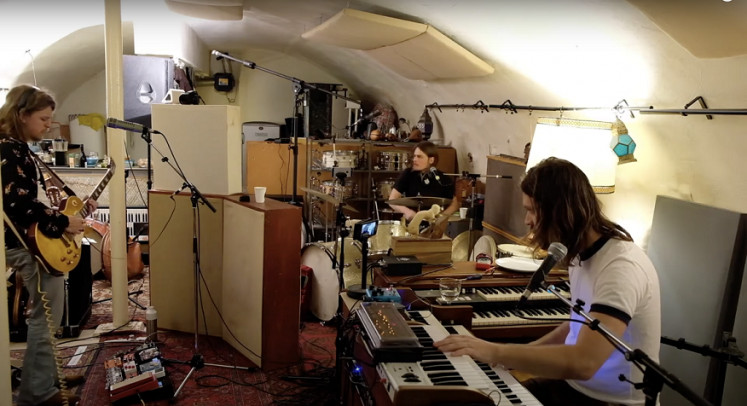 E-concert: DeWolff perform their hits for the first of many e-rasmus haus online events, from the iconic Electrosaurus Southern Studio in Utrecht. (Erasmus Huis/-)
Described as Leon Russell meets Deep Purple, Black Keys meet Allman Brothers, DeWolff have a sound of their own, unlike any other singular band. Their eccentricity and showmanship prove talent beyond their years, already having released a number of studio albums. Recognized for their flair, the band won a 2019 Edison Award in the rock category.
Erasmus Huis last hosted DeWolff on March 9, 2019, a successful event that was greatly received by their many Indonesian admirers. Proving their popularity, they also held concerts in Yogyakarta and Malang,
August will see a live collaboration between Dutch band Ciao Lucifer and Indonesian electronic duo Bottlesmoker.
The former is a lo-fi power pop duo, characterized as Unknown Mortal Orchestra covering the Beatles, at the wedding of The Kills. After releasing complex, experimental music, Ciao Lucifer has returned to the bare sounds of its earlier works, simply centered around guitar, drums and vocals.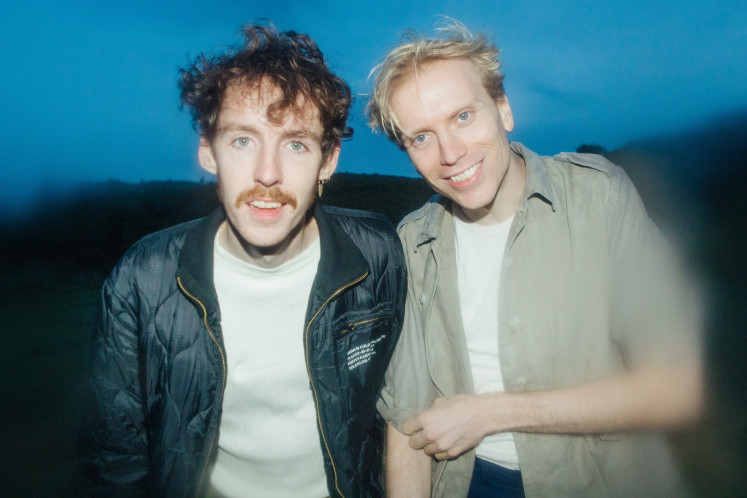 Fan favorites: After a successful run in Indonesia last year, Ciao Lucifer will be holding an online concert via e-rasmus huis next month.
(Ciao Lucifer/-)
Ciao Lucifer previously performed at Erasmus Huis a year ago, as well as Yogyakarta and Solo, where they collaborated with Bottlesmoker and conceived a unique composition.
The e-rasmus huis program is undeniably a fitting source of entertainment for those who want to try something new, and explore the richness of Dutch culture from the comfort of their own home.
For more information, visit the Erasmus Huis Facebook, Instagram, Twitter or Youtube.
The writer is an intern at The Jakarta Post.
Your premium period will expire in 0 day(s)
close x
Subscribe to get unlimited access
Get 50% off now