With a long way to go until a semblance of normality returns, the arts still flourish — even digitally.
Art collective ecosystem Gudskul, like other arts foundations, has been deeply affected by the ongoing pandemic, forcing it to close its doors to visitors.
While most art exhibitions have ended up being cancelled or postponed, technology became a savior for others, allowing artists to display their work without having to worry about social distancing or someone accidentally knocking down a display.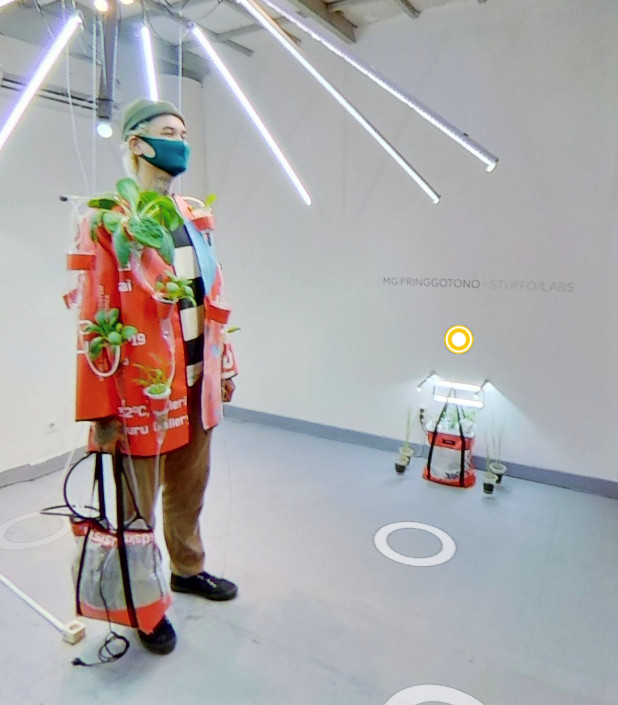 Augmented: Both exhibitions are held virtually, complete with 360-degree views and virtual reality capability. (Gudskul/-)
Two of Gudskul's latest exhibitions, Di Rumah Tak Berarti Melemah (At Home Does Not Mean Weakening) and MereTas Batas (HacKing the Limit), have been hosted online, allowing art aficionados to view various works of art from the comfort of their own home.
Held from July 5 to 25 at Gudkul's virtual gallery on its website, the exhibitions come in the form of a virtual tour, in which visitors can explore a 3D rendering of Gudskul Ekosistem's exhibition space.
The virtual tour starts just outside the space at the outdoor area, where you can see areas outside of the venue, like the night sky over the closed pet shop across the street.
Clicking your way inside, the experience is rather similar to walking inside the actual exhibition space, as each artwork displayed is rendered closely to the original.
Exhibition notes are swapped with virtual annotations and YouTube links, a much more welcome alternative than staring at small letters and possibly blocking other visitors' movements.
In MereTas Batas, six artists — comprising Gudskul teaching staff and students from its fashion branding and identity short course — showcase their fashion labels as a solution to everyday problems, from household waste to finding one's self.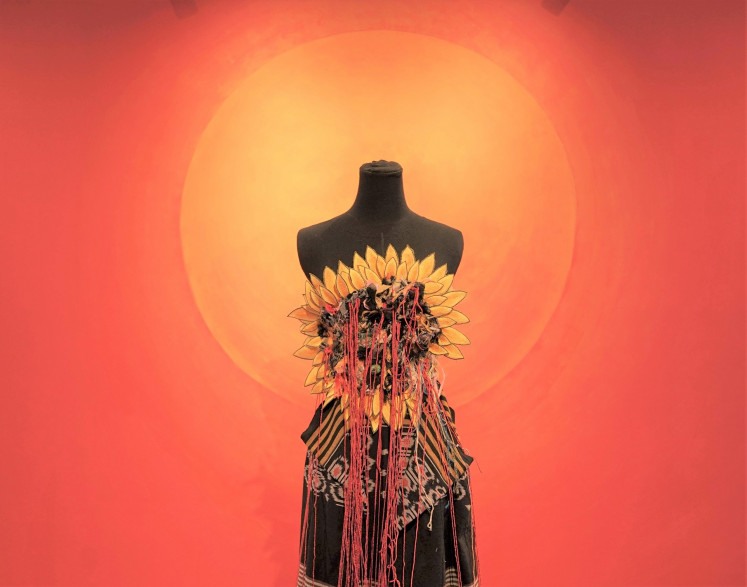 Worth a thousand words: In "MereTas Batas", six Gudskul students and faculty members utilized fashion as a solution to various problems, from urban ecosystems to finding one's self. (Gudskul/-)
Dila Martina Ayulia, popularly known as Ayudilamar, showcased an ingenious multifunction design that can be worn four ways: a hoodie, a halter neck dress, a tote bag and a backpack. Titled Xperimen BaTas, the design was made for Dila's label UGLY.
Another project of Dila's, Target, is composed of clothes that signified a particular garment worker's task. Each clothing features multiple parts of a garment, signifying the workers' task, as well as slogans heard every day about reaching a set target quota.
American-born Bethany Burton envisioned a futuristic world in MamoLab, where a group of scientists studying the ruins of the 21st century come across a memoir of the age: fast fashion waste. The label utilizes a barter system, trading one-off garments with unwanted materials or donations sent to mutual aid initiatives.
Meanwhile, MG Pringgotono's label STUFFO upcycles unused event banners into reusable bags. For its Shifting Ecosystem installation, a jacket made from a banner from 2019 becomes a mini-garden, equipped with an irrigation system for small plants. A bag is turned into a fishpond while at the same time, becoming a source of nutrition for plants. 
Monica Hapsari's Progresi? Tradisi? turns textile waste into kebaya (traditional Indonesian blouse), questioning the idea of tradition over progression and vice versa. Though the work was created in 2007, it is still relevant in 2020, as fast fashion is still increasingly a major problem in landfills.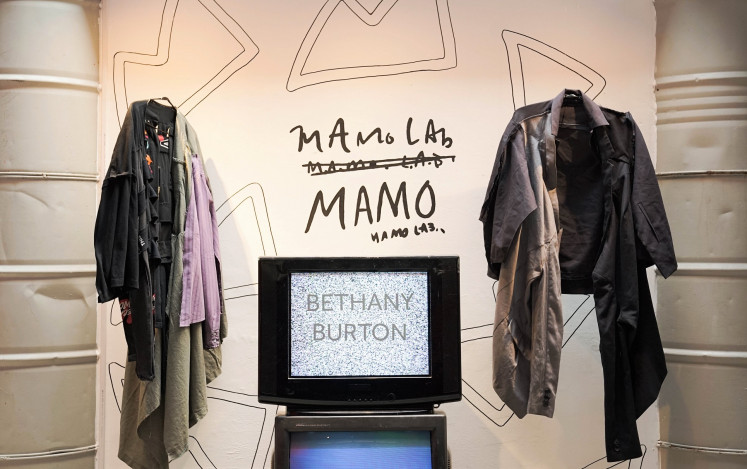 Post-fashion: American-born Bethany Burton's "MamoLab" is a vision of a distant future, where scientists study the present-day relics of fast fashion. (Gudskul/-)
Monica, one of the exhibition's curators along with Dila, said fashion was a solution, as design was meant to be problem-solving.
"So, we return back to our problems. Most of [the works] are about solving personal problems but with different viewpoints," she said.
For Di Rumah Tak Berarti Melemah, 36 graphic artists each created posters containing positive messages, particularly for those stuck at home.
Some entries are consoling, like Haoritsa's Hugs From Home, which displays hands hugging a house. Others are more straightforward, like Jakarta-based Arief Atto, whose print includes an ambulance, a man wearing a mask and the words "mencegah lebih baik" (preventing is better).
As some people cope with the pandemic through comedy, humorous entries are still abound, like Medan-based Wiratama's Di Rumah Ide Melimpah (Ideas Abundant At Home), which shows a man painting a suit-wearing water dispenser, inspired by his unplugged dispenser.
Virtual exhibition coordinator Arief Rachman, who is also a participating artist, said during the virtual opening that the idea came as a way around the collective's exhibition plans for the year, which had been made impossible to hold in person.
The exhibition is curated by Jakarta-based printmaking collective Grafis Huru Hara, known for their lively and often intricate prints.
One of the curators, Amy Zahrawan, noted that the virtual part of the exhibition was merely a method of delivery, as the prints were still physically present at the venue.
"We combined these two ideas — we invited our friends to create physical pieces and exhibited them. Around 50 works of art came in during the open call, which we pared down to 30 artists along with another six who are invited," he explained, adding that the six were chosen for their productivity during the pandemic.
Egga Jaya, one of the invited artists, said the exhibition was a welcome program in a time when most events had been canceled, and that he was pleased to hear that he could send in a physical piece of art.
"For me, physical works are still important in art, and I'm really happy that there is a platform for artists to continue making art," said the Bandung-based artist from West Java.
Your premium period will expire in 0 day(s)
close x
Subscribe to get unlimited access
Get 50% off now